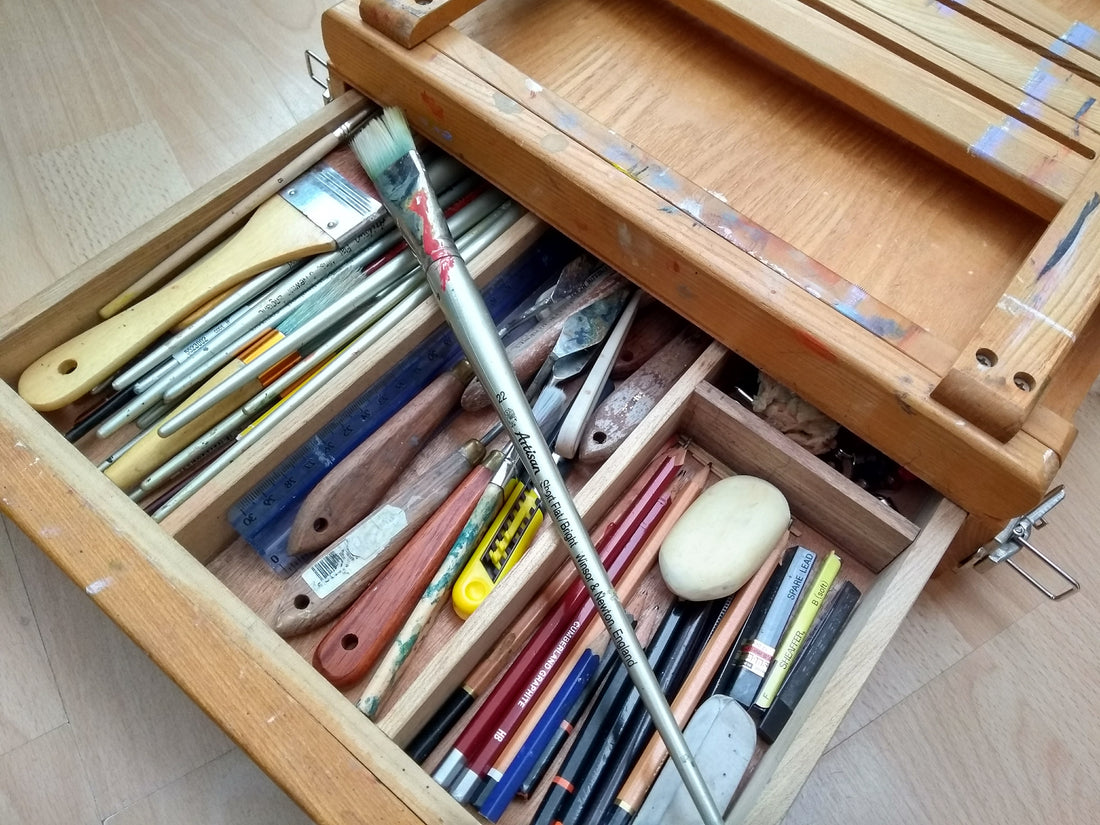 I've been flat out busy lately. Which is lovely, I'm not complaining. But I needed a break from the screen and from deadlines. So last week, inspired by the Big Painting Challenge, I decided to get my paints out and have a play. But because I have a squirrel for a brain I forgot that I was having a break from deadlines and I set myself a challenge to paint something within 2 hours.
I'd love to show you what I achieved. But I couldn't find a canvas knocking around and I didn't have any ideas. None. I had nothing to say and no canvas to say nothing on. But what I did have is a beautiful art kit and I spent a lovely hour rearranging my brushes and paints. A tried and tested method for protecting myself from failure. I inherited this easel/toolbox from BM. I was privileged to meet B at St. Johns Hospice where I volunteer. He was a patient and we became friends. We enjoyed talking about art - he was a member of a local art club and prior to becoming ill, he really enjoyed painting. I was beyond moved when he asked if he could leave his art kit to me when he passed - I really can't express how honoured I felt. This was around four years ago and it took me a while to mix my own collection of art materials in with B's. I'm not sure why. I think it was out of respect. But then it dawned on me that he didn't leave it to me for it to be preserved as a museum piece. He left it to me because he wanted me to use it. So these days this beautiful wooden easel is a wonderful mixture of mine and B's art tools. Paint daubed brushes old and new. Well worn pencils and small gadgets with no name; I will never know what he used them for, but hopefully they will reveal their uses to me over time. Thank you B wherever you are, it really is one of my most treasured possessions. And I'm hoping to find some time, some canvases and most importantly some ideas soon.
There is a yellow thing in the sky
I hope you are enjoying the sunshine. There's a small part of me that is still expecting it to snow. I'll probably get over that feeling around November time - when we'll get an early snowfall and I'll be left feeling like I've been on standby to grit the drive all year. But I think I can relax now, spring is in full swing and last month Andy and I put up the sunshades over my workspace in the conservatory. If you didn't see this on my Instagram then here's the time lapse of us doing it. https://www.instagram.com/p/BiCASMBHXR5 I'm hoping to do more time lapse videos in future. I thought it might be nice to show me working and for you to see how a poster comes together (or not as is often the case). You'll also see how often I drink tea and stare out of the window.
When is a cardboard tube not a cardboard tube?
When it is a pen holder. Today while the kids were having a water fight out the front, I made some pencil/brush pots out of the cardboard tubes that my prints get sent out in. Half a sheet of fancy wrapping paper and five minutes with a saw et voila. You can even reuse the ribbon on the gift tag if you like. I thought this might be a nice thing to let my customers know about in case they have nothing better to do, which is very unlikely, but it is an option. As is putting it in the recycling bin.
That's all from me for now. I've got a pretty jam packed month coming up. Lots more travel posters in the pipeline. A planes print for those of us who have spotter tendencies and lots of graphic design work for schools. Happy days. Keep smiling.