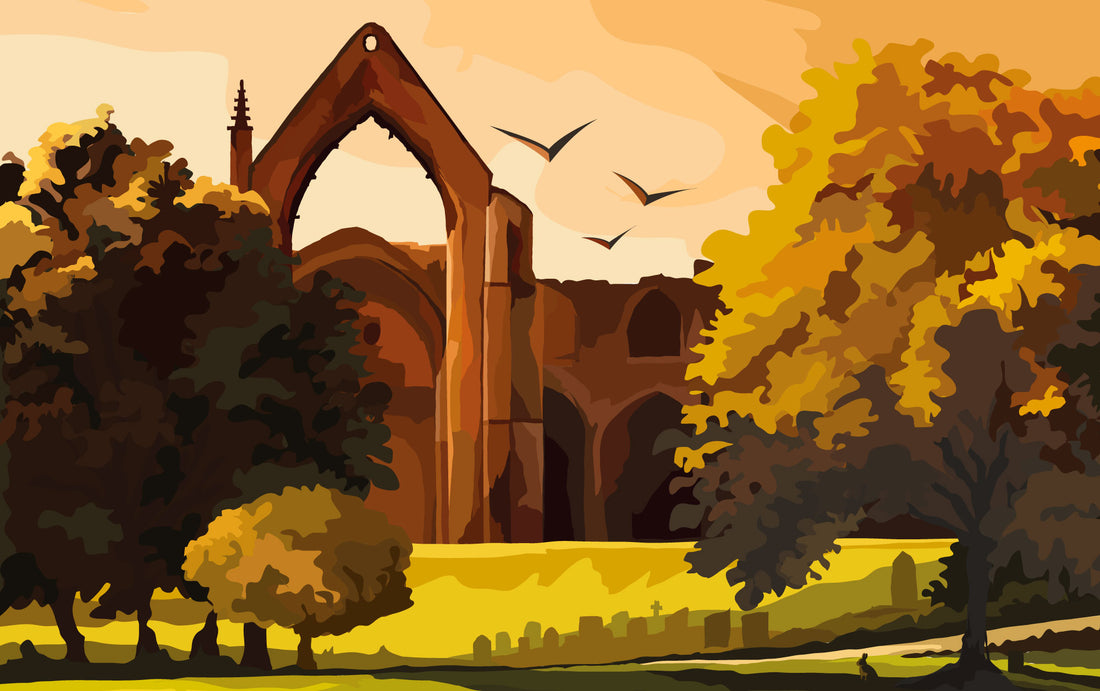 The Making of Bolton Abbey Travel Print
I've been asked many times to draw Bolton Abbey but I've only just got round to it - and what a joy it was too. I thoroughly enjoyed it. Bolton Abbey is a beautiful estate in Wharfedale, North Yorkshire. Its prominent feature is of course the Bolton Priory that is featured in this print, but it is the setting of the Yorkshire Dales and its miles of stunning walks and iconic stepping stones that have people flocking to the venue throughout the year.
As always I start off with research and here are some questions I ask myself:
What is the most iconic view of the place? What will my customers connect with?
What else exists out there? I want to offer a different perspective, view or colour-way?
Research the venue and learn about it, what makes it special and why do people love it?
This is the image I chose as my reference. It was taken in 2013 and it was posted on Pixabay which is a website where people offer free use of photographs to use for creative purposes.
I knew from other images online and from this Google Map image that the steps were in front of the Abbey and that I would need to extend the picture downwards to include the iconic stepping stones.
Work In Progress




Here are some snapshots of me using my Ipad Pro and Adobe Illustrator to draw the scene. I started off with the trees as this is my favourite part. Once I know how much detail the trees have, it then sets the tone for the rest of the piece. Everything is drawn by hand, no auto-tracing, no filters, no quick 'one button' fix. Just drawing the colours and shapes on different layers until it all comes together. It took me two days. You will see that I started by having the text at the top of the print but by the end of the design I preferred it at the bottom.
Close Ups
It felt a little empty without some life in there so I added some birds and a little rabbit hiding under the tree.

To Buy My Artwork
This Bolton Abbey print is available to buy from this website and from my Etsy store. I print to order and you can choose from A4, A3 or A2. Everything is designed, printed and packed by me in my studio in Bedfordshire and all orders are sent out 1st Class -Royal Mail 24hr tracked.
Read more posts: