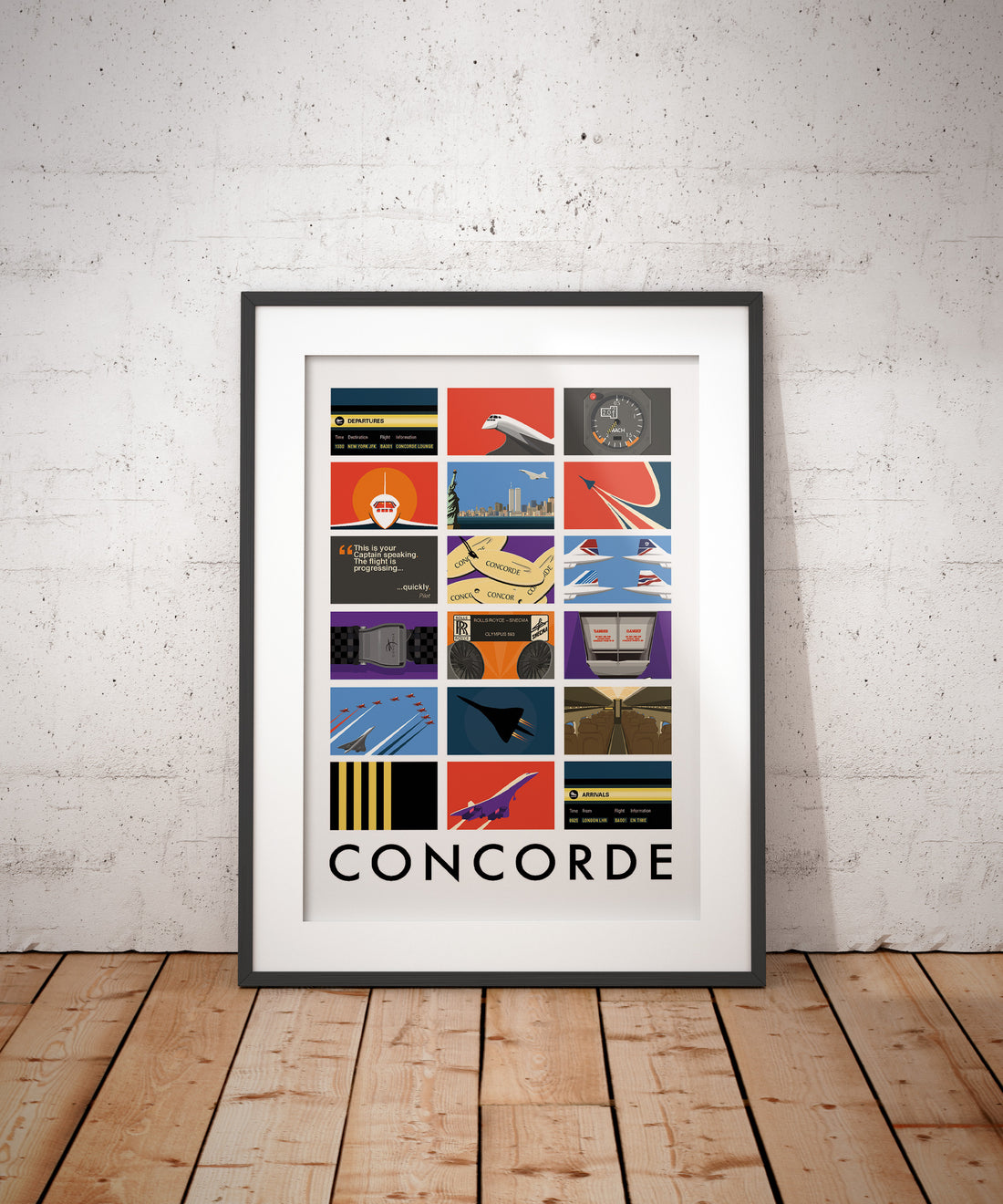 Concorde Collection Art Print
A while back I drew the Red Arrows for the Great North Run art print and really enjoyed it. After that I started drawing the Typhoon, Spitfire, Lancaster and Vulcan ready for a print containing illustrations of planes (I will get back to finishing this soon). I spent much of my childhood summers at airshows and my brother and dad both love planes, so by exposure I've grown fond of them and now find myself taking my children to airshows and tracking planes on Flight Radar. It's a slippery slope to Nerdsville. Anyway, included on my planes list was the Concorde and after I had drawn her I felt that such an iconic plane with its rich history and elegant lines deserved a print of its own.
But what to focus on?
Friends of ours mentioned that their pal Rhys was a Concorde fanatic and would happily help me if I needed any information or advice. I got his number, he kindly agreed to help and we WhatsApp'd ideas and pics - trying to get a good balance of internal/external images and focusing on form and detail. Creating 18 individual illustrations to work in harmony can be a bit tricky and tying them together is something I tend to work out as I go along. Colour plays a huge part in this. Choosing colours that are strong and bold but also making sure that there is light and shade when displayed together is key. It takes a bit of trial and error but I get there eventually.
Most fun to draw?
I think my favourite one to draw was the New York skyline. I was in quite a good mood when I drew it and I think the Spotify 'New York' playlist helped. It also came together surprisingly quickly which is always a bonus. Even though it is more detailed than most of the other drawings, the skyline is essentially rectangles and those are easy peasey. I also liked picking the colours for the Statue of Liberty...it can only be that green. And of course drawing the Twin Towers was very poignant too.
Getting the angles
Some of the more simpler looking ones took far longer trying to get the angles exactly right. Speaking of which, I bought myself a model Concorde so that I could move it around and take photos to get the view I needed. My die-cast Air France 1:400 scale model now has pride of place in my office.
Single prints
Once I had finished the Concorde Collection print I felt that some of the illustrations worked well as individual prints so I have included these in my shop too. That's the beauty of vector artwork, if you pay attention to the details even in small drawings then scaled up it will look damn fine too.
If you are a Concorde fan, I hope you like what I have done. Thanks once again to Rhys for all his help and also to his wife Diane for letting him have yet more Concorde memorabilia in her house. Prints are available to buy in my online shop.