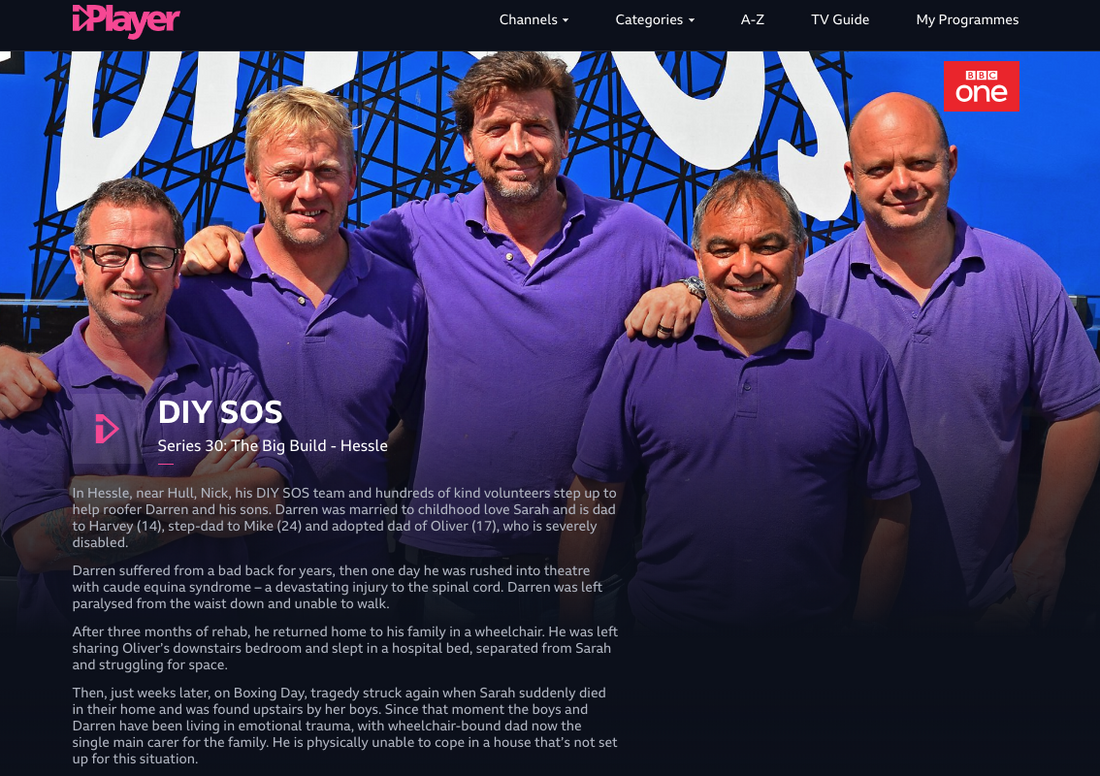 DIY SOS: The Big Build - Hessle
I assume many of us have things we can't watch on TV because they make us too sad or leave us feeling anxious or helpless. DIY SOS is one of those programmes for me. I remember watching an episode about 5 years ago where the home of 9 year old Josh Martina-Hopkins was transformed to help him and his family live with his disabilities. It was a heartwarming episode, until the end when the screen faded to black and a photo appeared. Josh had passed away since the programme was made and his parents had given the BBC permission to screen the show in his memory.
Me and my husband didn't utter a word to each other for over and hour. We couldn't talk and I just sobbed. I felt helpless, voyeuristic, spoilt and gut wrenching sadness for Josh and his family. Despite all the great work the team do I didn't dare watch the programme again after that.
Last night I broke my self imposed ban and watched DIY SOS: The Big Build - Hessle, because this time I knew I would feel a little less helpless. Last year the BBC contacted me and asked if I would consider donating some artwork. They had seen and liked my drawing of the Humber Bridge and the interior designer on the show had though it would make a nice print in the home of their featured recipient who lives within view of the bridge. Honoured, I said yes straight away and along with all the other volunteers I was invited to the big reveal - I couldn't make it unfortunately but it was a lovely feeling all the same.
I wasn't even sure I was going to blog about it as I didn't want to feel like I was bragging on the back of other peoples misfortune, but after seeing the episode last night I don't feel like that. I am proud to have played the tiniest part in helping Darren and his outstanding boys feel loved by the wider community.
If you ever get a chance to help a show like this, or anything like this then say yes. DIY SOS put their requests out on social media so follow them if you are interested. But also look closer to home, your local hospice, school gardens, neglected roundabouts, allotment buildings, community centres, residential homes, litter picking, food banks, beach cleans. They all need volunteers. When the news and the shit-shower that is British politics makes you feel helpless - know that you aren't.
If you missed DIY SOS last night you can catch up here.