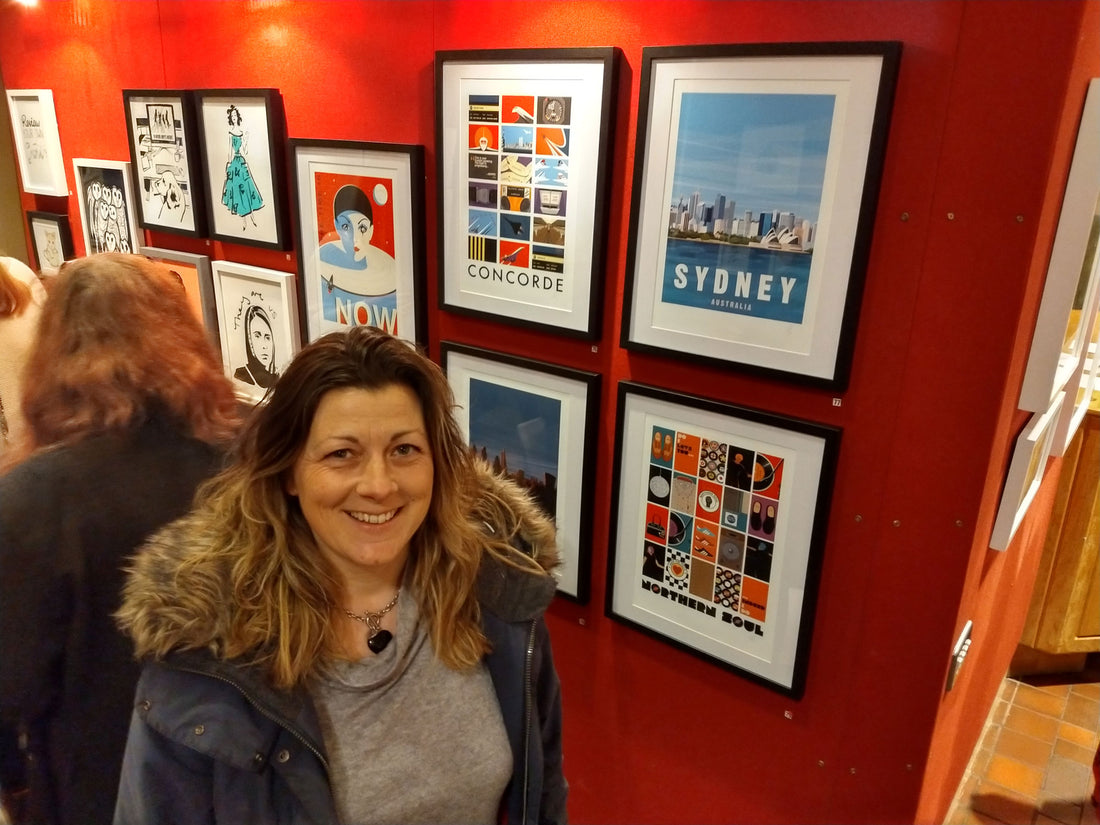 I've had about 82 hot dinners and 93 puddings since I last posted on here so naturally I've forgotten how to add photos and write in meaningful sentences so please lower any expectations you have. 'No expectations' you say? Excellent.
December
December was a busy old month, full of printing and Post Office trips. The ladies at my local Post Office are so helpful even though they are inundated at that time of year and thankfully they don't duck under the counter when I turn up with a sack of awkward rolly-polly tubes. Speaking of which, I did my first backward roll recently. It wasn't pretty and it wasn't straight but it was 'arse over tit' which technically speaking is what a backward roll is. So I was very happy. I even got a well done from my yoga teacher Teresa which made me feel like I was five and I mean that in a good way.
I also drew two new travel posters in December - Sydney and New York. The bushfires were still raging when I was drawing Sydney so it felt a bit weird at the time but I'd made a promise to a friend so I plugged away. As for New York, I've not been myself but my husband spent a bit of time out there for work and he said this was a good view take. I will do more of NYC at some point. I drew the Statue of Liberty for the Concorde artwork so I will expand on that in the future.
January
January got off to an exiting start with me taking part in the Circus Of Illustration art exhibition. The exhibition is at Bedford School and I was really chuffed to have been asked to feature five pieces of my work. Having driven to Bedford to drop off my artwork I realised as I opened the boot that I'd forgotten to put the framed prints in the car. This is not unlike me, but it's still infuriating when it happens and meant I was 20 mins shy of missing the deadline. I'd love to think I will learn from this mistake but I know I won't.
If you are local to Bedford and have an interest in art then maybe check out the Circus of Illustration. They are a warm and welcoming group of people who celebrate drawing and creativity in the comfort of a pub. What's not to like. On the night, I met two of their committee members Katie Allen and Andrew Foster (see their self portraits below) who were lovely and both had some really good work featured in the exhibition too. Although I must say Katie wasn't as blue as I'd expected.
My husband and children came along with me to the opening night viewing which made me feel very proud. They're my biggest fans and it was nice for them to share in the excitement. There was some really nice work from local artists on display (see below) and it was lovely to see my daughter being inspired by some of the artwork and having a go herself the next day.
By the time I left the viewing, a little red dot had appeared on my Northern Soul framed artwork which meant someone had bought it. That was a really nice feeling. I wanted to get some photos for my website but I felt a bit too self conscious to linger around my own work so I asked Andy to quickly take some pics when I felt no-one was looking. In retrospect I now think it was a bit silly to feel like an imposter as everyone there was lovely and I really enjoyed hearing the other artists talking about their work. I'll try a bit harder next time.
While I was there I bumped into Kate Lowe who was the Design Manager at the RSBP who (along with some other kindly folk Mike, Chantal, Justine, Joel and Sarah B) helped nurture my early graphic design career; it was really lovely for me to see Kate there.
New Printer
I bought a new printer. This might sound like boring news but it's a big deal in the Westley household. It was a healthy sized investment for me as a small business and the running costs of the ink is high. But I can now print A2 which is great as this has become an increasingly popular choice for my customers. Plus I'm hoping that the nine inks (instead of the standard four CMYK) will make it more cost effective in the long run and more environmentally friendly. The quality is exactly the same high standard as my previous Epson printer and so far I'm really happy with my new purchase. The downside is there will be no new shoes for me this year. The upside is that I already own a pair of red sparkly Wizard of Oz style Hush Puppies so my footwear needs are covered for life.
What next?
I'm currently working on a travel poster of Pontefract as a commission for Wakefield Museums and Castles. I was really pleased to have been asked. It will feature as part of the Charles Pears exhibition at Pontefract Museum. Charles Pears was an artist who was born in Pontefract and went on to design some well loved Travel Posters. You can see his large collection of work here. I hope to do him justice. After that, I'm turning my attention to Birmingham. I'll keep you posted...thanks for reading this far.