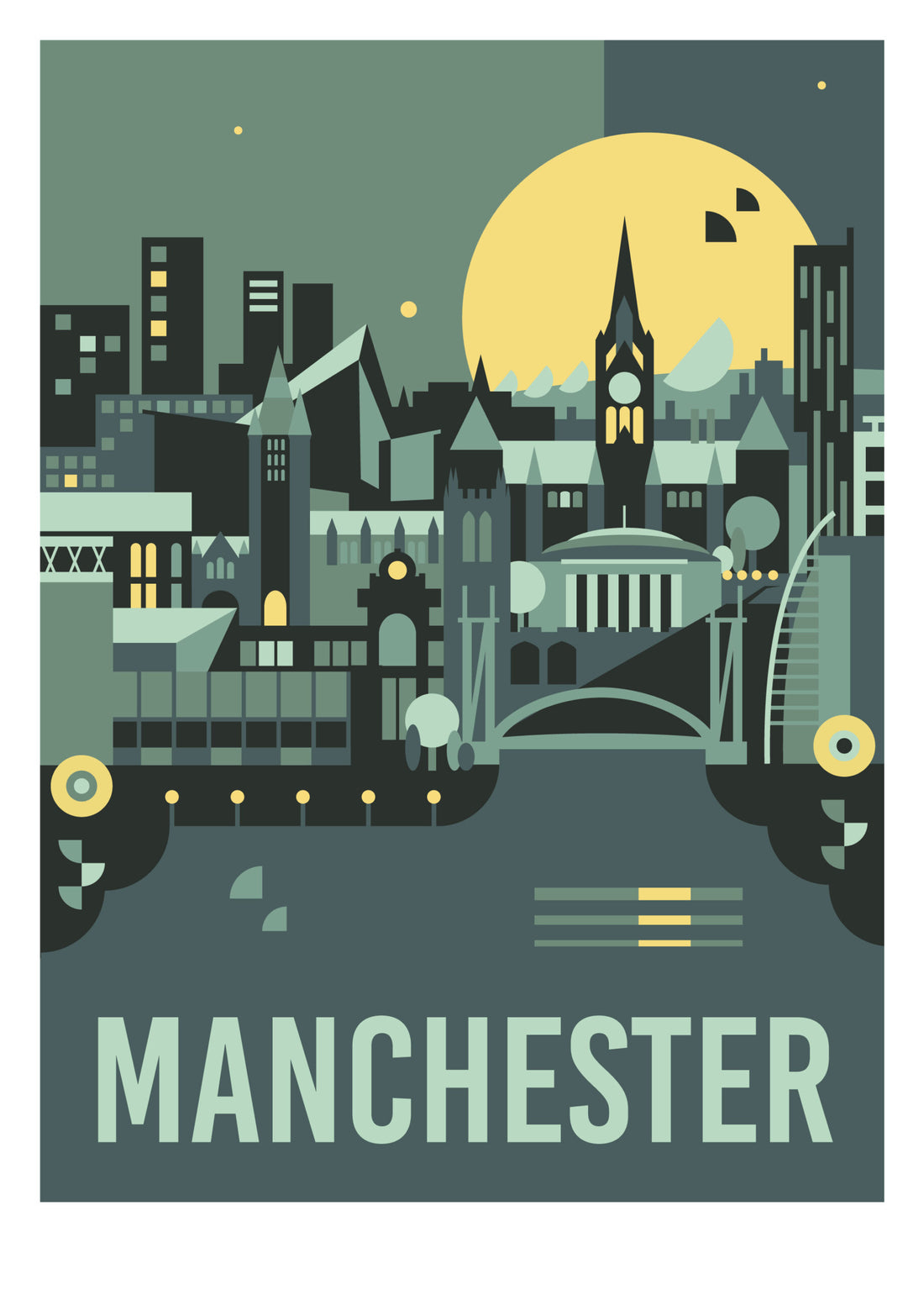 Let me give you a quick peek behind the curtains to show you how I create my cityscape artwork. This one is of Manchester, a culturally rich city in the north of England. It was the heart of the industrial revolution, its musical output is unrivalled and it provides the setting for Coronation Street. That's a very brief intro, but to be fair if you are here you probably know far more about the place than I do.
Simplifying the buildings
First things first...simplify. Once I have found a suitable photo reference I think about how I can draw the building in the most simplified way. Often I will accentuate features or exaggerate angles for artistic purposes but I always aim to make the buildings recognisable.
Sometimes I draw over the reference photo, other times I will create the artwork next to it.
You can see in the third image that by simplifying the NV Building down to a curved line and some rectangles it works well within the context of the artwork. It holds its own but doesn't stand out too much.
Getting to know my way around
Not only do I need picture references for every building, I also like to understand the geography of the place. For instance in the background I have included hills (and Jodrell Bank if you look closely), whereas in my Liverpool artwork there are no hills the buildings just continue into the distance. Below is a screen grab of my Illustrator file just as I was coming to the end of the project.
Colour options
As with all my cityscape prints, there are colour options. I usually include the three main colours, Sage, Tropical and Midnight. Then for each town I will include some special colour-ways and often they are 'sports team' related. Below there are options for Manchester United fans and Manchester City fans. You can swipe the image to see how the different colours look. I have also created a Hacienda colour-way for those that still have a functioning memory from those days.
Can you spot the following?
For those of you reading this post that know Manchester see if you can find the following:
Urbis
Beetham Tower (Manchester Hilton Hotel)
The Bridgewater Hall
Manchester Cathedral
The Lowry
Manchester Central Library
Manchester University
NV Building
The Print Works
Jodrell bank
Millenium/Lowry Bridge
Where next?
Leave a note in the comments to let me know where you'd like me to draw next? Or follow me on social media and let me know there. Manchester prints are available to buy here in my online shop. Or if you are not based in the UK then you can head over to my Etsy shop where I ship worldwide. Shout if you have any more questions. Until then, ta ra.