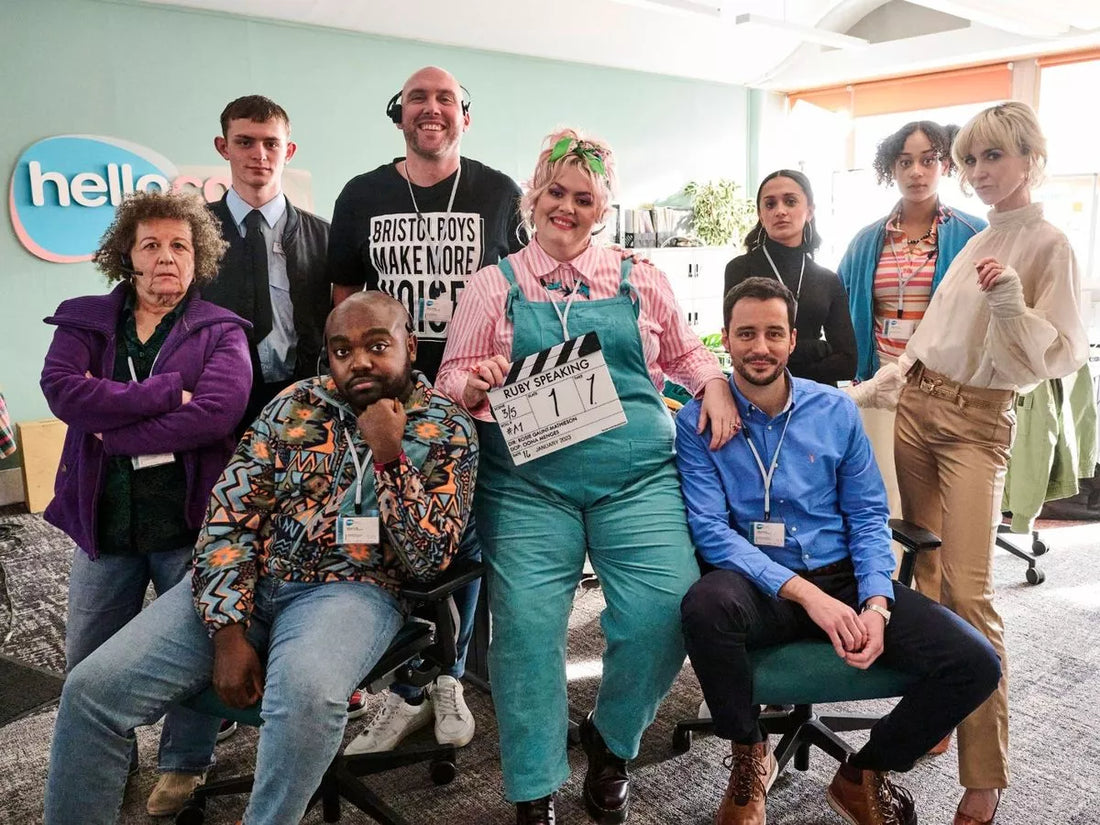 Hey guess what? My No Place Like Home' print features in a new itvx sitcom by the gorgeous Jayde Adams. I know. Cool right. Jayde got in touch with me via my Etsy shop and told me that her make up artist bought it for her as a gift and asked if I would be happy for her to use it as a prop for her latest comedy Ruby Speaking. Erm, hell yeah.
I was in Asda when the copyright consent form came through. I couldn't get a proper signal, I couldn't remember how to sign a pdf, I was blocking the aisle with my trolley and I was hot and flustered. But it must have worked because I've just watched episode 2 and there is it, above Ruby's bed.
Because, because, because, because, because...
The Wizard Of Oz is my favourite film and I also love red shoes. So it was inevitable that one day I would create some artwork for my walls. You may think Ruby Slippers are red but look closely and there are pinks, oranges, purples and even greens in the shoes. Every sequin drawn and coloured to create the perfect sparkles. I have this print on my own wall because there really is 'No Place Like Home'. As much as I enjoyed drawing the Ruby Slippers the piece only really came together when I added the plug socket. A visual reminder that home is where you can use your hair straighteners.
Because of the wonderful things she does...
I adored Jayde in Alama's Not Normal, I loved her on Strictly Come Dancing and I am really enjoying her in Ruby Speaking. You can watch all episodes now on itvx.
Travelodge Roomline where would you like to stay?
Not only am I a Judy Garland fan and a proud wearer of my own ruby slippers (Hush Puppies - all about the comfort babes) but I also used to work in a call centre. In fact I've worked in numerous call centres over the years but the one I remember most was working at Travelodge in the university holidays. Somewhere in the depths of the Black Country, me, Philippa, Jo and Nik all donned our Britney mic headsets and in our various regional accents said "Travelodge Roomline, where would you like to stay?" It was back in the day just before minimum wage was introduced, when smoking rooms were legal and when sales reps were using the company credit card to book a night at Knutsford Services for Mr and Mrs Smith. I'm sure they still are - it's just online booking and Paypal now.
Want to be like Ruby?
If you want a bit of sparkle in your life too then you can purchase the No Place Like Home print from my online shop or you can head over to my Etsy store. If you already have a print then tag me in your pictures on social media, I'd love to see where you hang yours.