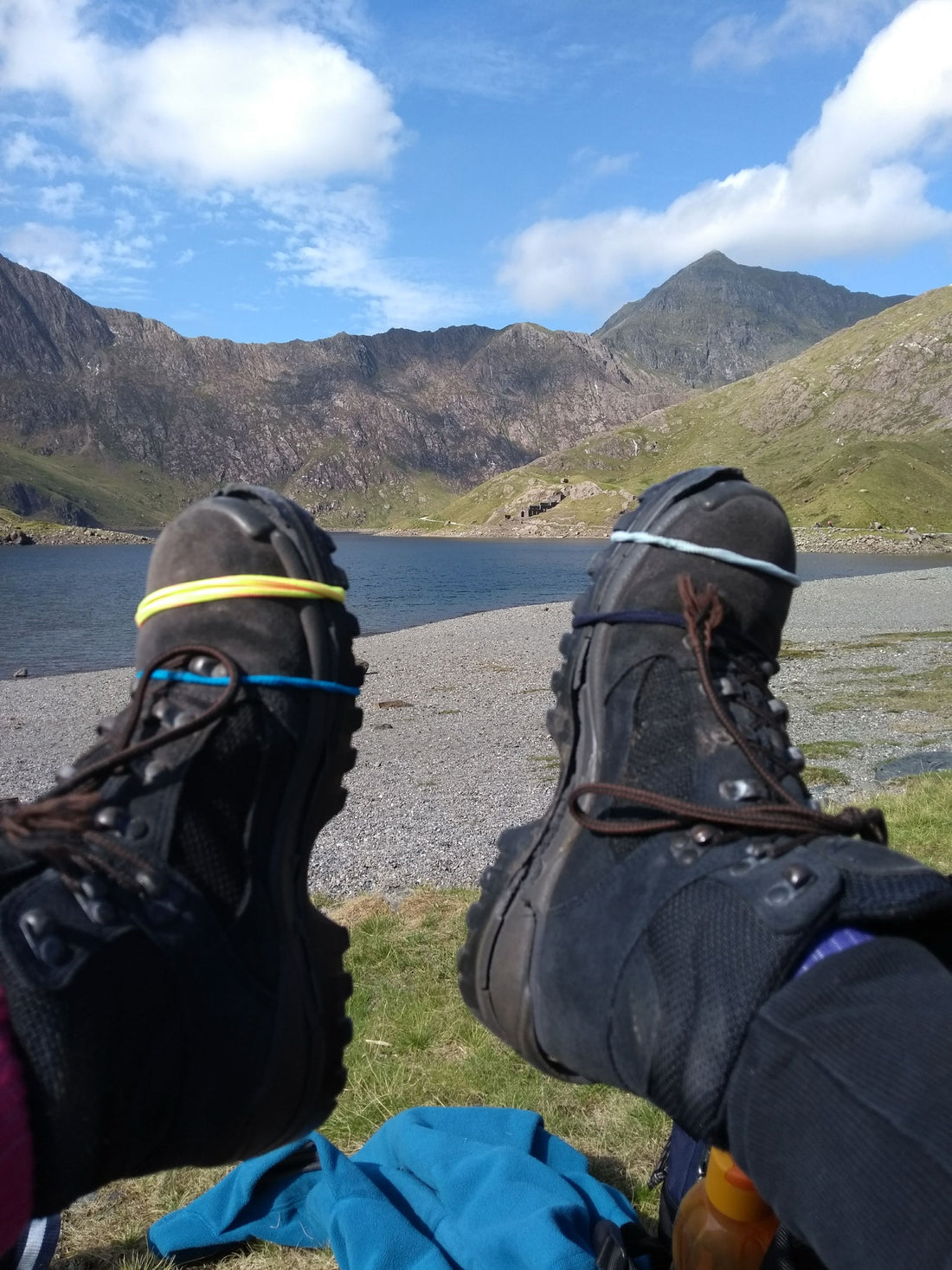 There's a mountain top that I'm dreaming of
No, not that one. But now you've got that song in your head haven't you? I'm talking about Snowdon. We've just got back from camping in North Wales and whilst most of the UK was laying on top of duvets and enjoying an occasional breeze from a rotating fan placed upon the laundry basket, we were knee deep in drizzle. We scheduled our Snowdon adventure for the nicest day according to the forecast - which kept changing by the second and never matched what we saw with our own eyeballs. Still, the sun did come out for us that day which made the 0530 start and complicated car parking arrangements slightly more palatable. However, our excitement was short lived.
We had just passed the second lake on the Miners Path when my boots disintegrated. They just crumbled. There were many reasons why I thought we had about a 60% chance of reaching the top that day, but my boots evaporating wasn't one of them. We went all Ray Mears and tried hair bobbles to strap the soles on but 5 metres in and I knew if I carried on I'd be appearing in the next addition of 999 Mountain Rescue. We turned back. Defeated. And ever so slightly relieved that I didn't have to cajole two kids up a mountain; but don't tell them that, they think Mummy is really sad about it. We will try again though, maybe next year once I've saved up for some new boots. For me though, this year Snowdon was sole destroying.
I will of course be doing a print of Snowdon at some point, it really is beautiful. I've also been asked for the Breacon Beacons so I'll probably do that at the same time. Similar colours and all that.
The campsite we stayed at was near Llanrwst which I had drawn about a year ago. It was a request from a customer and I never thought I would end up walking over the same bridge that I had struggled to draw. It was lovely to see it in real life and although I didn't see any common terns, I did see a kingfisher fly under the bridge. As you can see I have taken a fair bit of artistic licence with the weather - if only it was that easy in real life.
I've got a few drawings on the go at the moment, but I dip in and out of those during the summer holidays so not much gets done really. I'm keen to do the Great North Run before the event so I shall be starting sketches for that soon. I'm thinking the Red Arrows need to be in it and I'll do my runners with little round heads like the
London Marathon print.
If anyone has got any pictures or thoughts about which view point would work best then please do let me know, I'd be most grateful. That's all from me, I'll leave you with some of my work I've done recently and just incase your ear worm has wriggled out, I'll put it back in for you...time flies by in the yellow and green, stick around and you'll see what I mean... Hah. UPDATE: I've since done a Snowdon print, you can check it out
here.
Available in Welsh and English. Thank you.