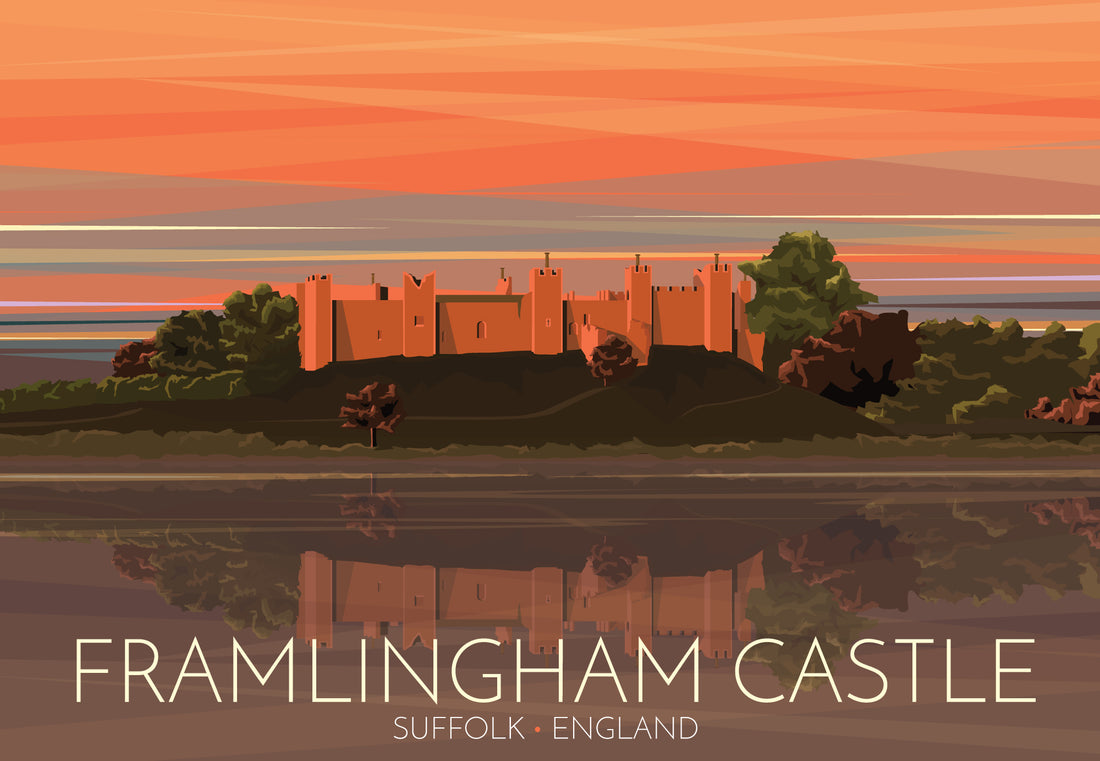 We watched the sunset, over the castle on the hill.
A few weeks ago Rob, an old friend from university asked whether I could create a print of Framlingham Castle in Suffolk. Framlingham is his home town and he sent through some pics that he'd taken. I also did some google maps research to find the angle I wanted and settled on a view where I could have fun with the reflection on the water.
Ed Sheeran fans may know that Framlingham Castle was the inspiration for his song Castle On The Hill. It features at the very end of the video too. The song tells the story of returning to his hometown and the gratitude for the people and places that influenced his formative years. After watching the video and listening to the lyrics there was only once choice of setting for this print. Sunset. And you know how much I love a sunset. The whole piece was centred around my quest for that vivid bright orangey pinky glow reflecting off the castle. I worked out where the sun would set and tried to give a sense of the darker sky coming in from the east. I loved working on this one. It took about three days to get right. Reflections are easy; copy, paste, opacity at %40, but the effect looks good. The print really came together though when I used the same pink in the sky
and
the castle. It all finally gelled. I hope those with a deep affection for the area feel I have captured the spirit of the place, I've certainly tried to. Thanks for the suggestion Rob. Prints available to buy on
Etsy
.
In the spirit of the song lyrics, here's a picture of Rob and I at Wolverhampton University (circa 1998). Golden days of Dudley.
Castle On The Hill - Ed Sheeran
https://www.youtube.com/watch?v=K0ibBPhiaG0 When I was six years old I broke my leg I was running from my brother and his friends And tasted the sweet perfume of the mountain grass I rolled down I was younger then, take me back to when I Found my heart and broke it here Made friends and lost them through the years And I've not seen the roaring fields in so long, I know I've grown But I can't wait to go home I'm on my way Driving at ninety down those country lanes Singing to "Tiny Dancer" And I miss the way you make me feel, and it's real We watched the sunset over the castle on the hill Fifteen years old and smoking hand-rolled cigarettes Running from the law through the backfields and getting drunk with my friends Had my first kiss on a Friday night, I don't reckon that I did it right But I was younger then, take me back to when We found weekend jobs, when we got paid We'd buy cheap spirits and drink them straight Me and my friends have not thrown up in so long, oh how we've grown But I can't wait to go home I'm on my way Driving at ninety down those country lanes Singing to "Tiny Dancer" And I miss the way you make me feel, and it's real We watched the sunset over the castle on the hill Over the castle on the hill Over the castle on the hill One friend left to sell clothes One works down by the coast One had two kids but lives alone One's brother overdosed One's already on his second wife One's just barely getting by But these people raised me and I can't wait to go home And I'm on my way, I still remember This old country lanes When we did not know the answers And I miss the way you make me feel, it's real We watched the sunset over the castle on the hill Over the castle on the hill Over the castle on the hill