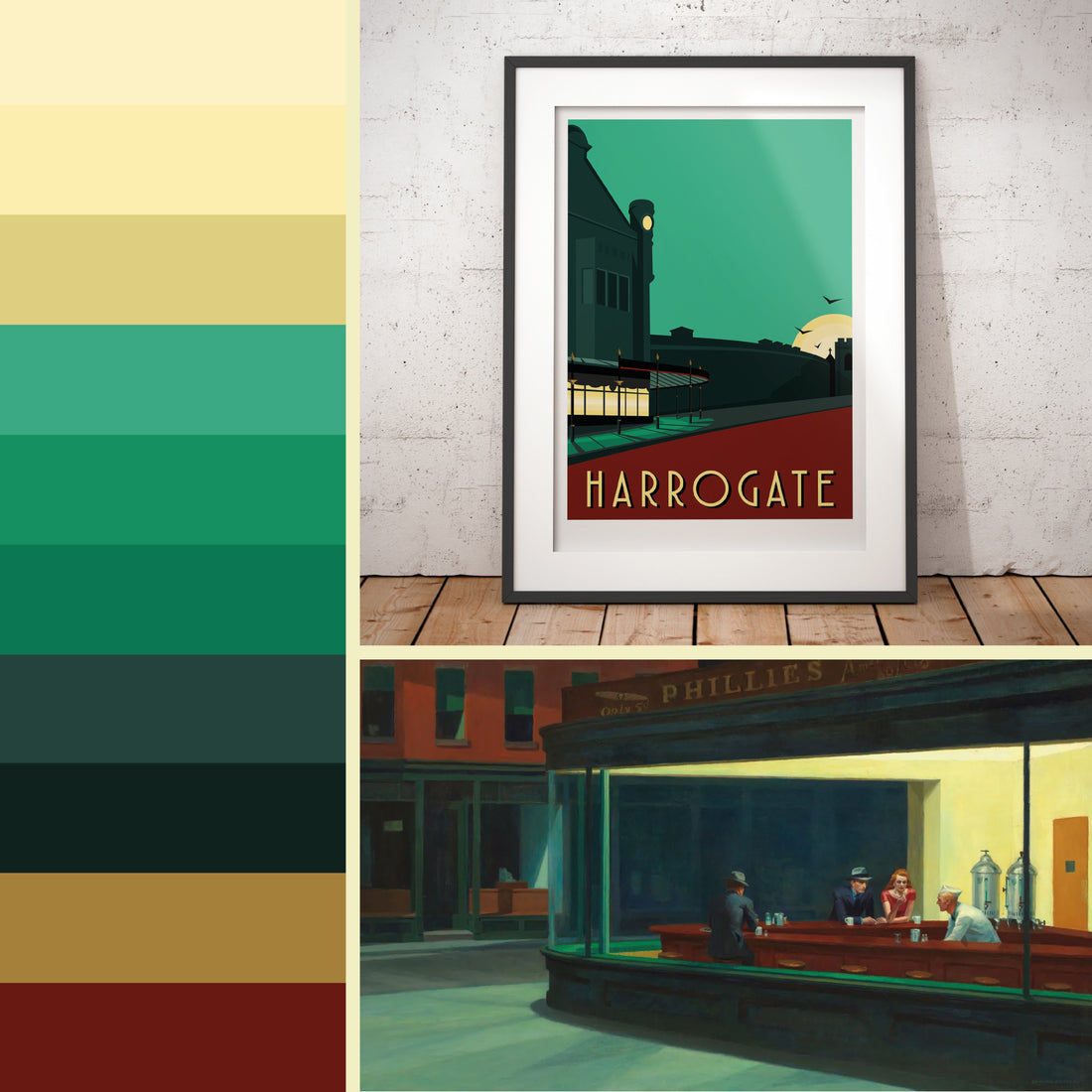 The Making of Harrogate Travel Print
It's been on my 'to draw' list for a while now and I have finally created a travel poster that celebrates the historic North Yorkshire town of Harrogate. It is a stunningly beautiful place that captures your heart and your taste buds.
The town is famous for its mineral springs and picturesque streets but one of the main reasons people like visiting Harrogate is for its tea rooms and none are more famous than Bettys. Here you can take afternoon tea in style in the beautiful art deco building. 
Choices, choices - which part of Harrogate to draw?
There are many iconic views to choose from. Some artists have focused on the famous Royal Pump Room others have favoured the stunning gardens. But I chose Bettys because its art deco building lends itself to my style. Using Google maps I did a bit of virtual visiting until I found the angle I was after.
Screen grab of Bettys in Harrogate using Google maps
How do I start?
I work in Adobe Illustrator and I put the above photo on a reference layer and position this at the bottom. I then begin to draw over it using the pen tool to create lines and shapes and then fill with colour. 
You can see from the image below that I have straightened up the vertical angles on the buildings and also exaggerated the angle of the curve of Bettys store front. 
 I had already decided before I started putting (digital) pen to (screen) paper that this would be a night time scene and that I wanted to use the colours found in Edward Hopper's famous painting 'Nighthawks'. 
One of my favourite Hopper quotes:
"There is a sort of elation about sunlight on the upper part of a house" Edward Hopper
Whilst this quote doesn't directly link to Nighthawks, it is this feeling that I am always trying to capture when I create artwork. That glimpse of optimism, a moment of hope and that feeling that something is about to follow. 
Want to know more about how I work?
I have created blogs in the past showing in more detail how I work. On this Harrogate print I didn't take time to stop and screen grab my process so it's a bit more tricky to explain. However I will try and do that more in the future as I know it's what many people find interesting. 
I have written about my processes in other posts like London Marathon and Manchester and Bolton Abbey.  So do check these out if you are still interest and want to know more.
Independent Shops
Harrogate is well known for its thriving shopping areas and amongst the larger well known stores you will find plenty of independent shops.
One of these is Lighthouse Lane. Katie and Howard Shelmerdine have stocked my artwork in their gift shops since 2016. With successful shops in Haworth and Skipton, they have opened their latest store in Harrogate and will be stocking my Harrogate print alongside many of my other Yorkshire artworks. Do pop in if you can, you will get a warm welcome and be spoilt for choice when looking at all their gorgeous products.
To Buy My Artwork
This Harrogate print is available to buy from my online shop and from my Etsy store. I print to order and you can choose from A4, A3 or A2. Everything is designed, printed and packed by me in my studio in Bedfordshire and all orders are sent out 1st Class -Royal Mail 24hr tracked.